Switch to code view to edit website name
The Association of LGBTQ+ Psychiatrists
AGLP
Journal of Gay and Lesbian Mental Health
About the Journal
The Journal of Gay & Lesbian Mental Health seeks out and publishes the most current clinical and research scholarship on LGBT mental health with a focus on clinical issues. 
The Journal strives to represent the full breadth of LGBTQ+ mental health treatment, including issues relevant to patients and mental health care providers in all types of settings. The Journal of Gay & Lesbian Mental Health also strives to cover the full spectrum of sexual and gender minority populations – lesbian, gay, bisexual, transgender, intersex, queer, and gender-queer. 
This peer-reviewed journal emphasizes original research articles, critical reviews of the literature, reports of innovative programs for LGBT mental health care training and delivery, and case reports that advance our understanding of LGBT mental health.
The Journal is provided free-of-charge to AGLP members.
Chris McIntosh, M.D., Editor
View the current issue online >>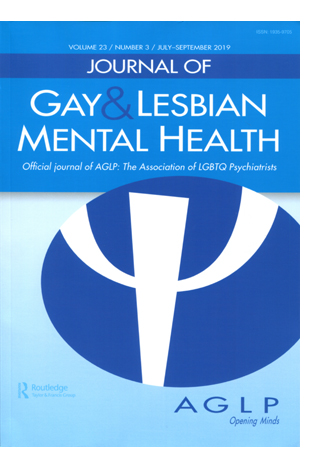 Journal of Gay and Lesbian 
Mental Health
2021 Outstanding Psychiatry Resident Paper Award
The Journal of Gay and Lesbian Mental Health (JGLMH) is a quarterly, peer-reviewed journal indexed by PsychInfo.  JGLMH is the official journal of AGLP (www.aglp.org).  
 
We are seeking outstanding resident papers on LGBT mental health; these can be original research papers, case series and detailed case reports, or review articles.  The award includes $500, publication in JGLMH, and assistance with travel to the AGLP annual meeting (held concurrently with the APA) in May to present the resident's work.  The deadline to be considered for a 2020 award is March 15, 2021.  Co-authored papers are eligible as well, but the resident must be the first author.

Entries can be submitted to editors@aglp.org.
Top