Switch to code view to edit website name
The Association of LGBTQ+ Psychiatrists
about us
Get to Know More About AGLP
AGLP, celebrating over 40 years of service to the LGBTQ Community, traces its roots to the late 1960s, when gay and lesbian members of the American Psychiatric Association (APA) met secretly at the annual meetings. At that time, in most states, homosexuality could be used as cause for the loss of licensure to practice psychiatry.  After the now-infamous appearance by Dr. John Fryer In 1972, and the behind-the-scenes work of several members of what was then referred to as the GayPA, the APA removed homosexuality from their diagnostic manual (DSM). This allowed a more open association of lesbian and gay psychiatrists, who no longer had to fear for their jobs if they were found out to be gay.  Even today, the mission of providing support and a safe space for LGBTQ+ psychiatrists to meet continues to be important to many of our members. AGLP is the oldest association of LGBTQ+ professionals in the country.
AGLP is an independent organization from APA, but works closely with APA through LGBTQ+ representation on the APA Assembly (the LGBT Caucus of the APA), APA position statements, LGBTQ+ Committees of the DSM, the creation and staffing of an AIDS Committee, Awards, such as the Dr. John Fryer, M.D., Award, and research and advocacy of particular interest to the LGBTQ+ Community through our quarterly Journal of Gay and Lesbian Mental Health. AGLP offers an online referral service to those seeking LGBTQ+-friendly counselling, support, and psychiatric treatment. 
In 2015, The Association of Gay and Lesbian Psychiatrists changed its name to AGLP: The Association of LGBTQ+ Psychiatrists, in order to serve a broader constituency of members and patients in the LGBTQ community.

AGLP continues to work with APA and independently to support our members and advocate for our patients.
AGLP Past Presidents
Frank Rundle, M.D
Stuart Nichols, M.D.
James Krajeski, M.D.
David Kessler, M.D.
Terry Stein, M.D.
Robert Cabaj, M.D.
Norman B. Hartstein, M.D.
Peggy Hackenbruck, M.D.
Marshal Forstein, M.D.
Margery Sved, M.D.
David L. Scasta, M.D
Daniel W. Hicks, M.D.
Philip A. Bialer, M.D.
Mary Barber, M.D.
Dan Karasic, M.D.
Ubaldo Leli, M.D.
Kenneth Ashley, M.D.
Eric Yarbrough, M.D.
What we do...
What We Do
- Publish a quarterly newsletter (free to members)
- Publish the quarterly Journal of Gay and Lesbian Mental Health, the official journal of AGLP, and provide a free subscription for all full, associate, early career, and medical student members;
- Conduct a full schedule of seminars and discussion groups concurrent with the annual meeting of the American Psychiatric Association (APA);
- Sponsor several awards honoring the accomplishments of people and organizations that contribute to the well-being of the LGBTQ community;
- Sponsor social gatherings and a hospitality suite at the annual meeting of the APA and other psychiatric meetings;
- Work within the APA to influence policies relevant to the lesbian and gay community;
- Collaborate with other organizations of gay and lesbian physicians and mental health professionals;
- Provide referral services for lesbian and gay patients;
- Assist medical students and residents in their professional development;
- Encourage and facilitate the presentation of programs and publications relevant to gay and lesbian concerns at professional meetings; and
- Serve as liaison with other minority and advocacy groups within the psychiatric community.
Mission and Vision Statement
Mission Statement
We are a community of psychiatrists that educates and advocates on LGBTQ+ mental health issues.
Our goals are to:
• Foster a fuller understanding of LGBT mental health issues;
• Research and advocate for the best mental health care for the LGBT community;
• Develop resources to promote LGBT mental health;
• Create a welcoming, safe, nurturing, and accepting environment for members; and
• Provide valuable and accessible services to our members.
Our Vision: AGLP Strives to be a community for the personal and professional growth of all LGBTQ+ Psychiatrists, and to be the recognized expert on LGBTQ+ mental health issues.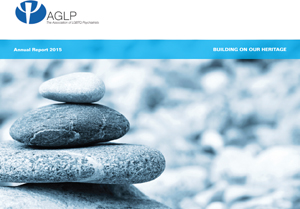 AGLP Annual Report
Executive Board
| | | |
| --- | --- | --- |
| Executive Director | Roy Harker, CAE | |
| President | Howard Rubin, M.D. | |
| Vice-President | Pratik Bahekar, M.D. | |
| President Elect | Amir Ahuja, M.D. | |
| Secretary | Sara Noble, D.O. | |
| Treasurer | Mark Messih, M.D. | |
| Newsletter Editor | Erick Meléndez, M.D. | |
| Editor, JGLMH | Chris McIntosh, M.D. | |
AGLP Advisory Board
Membership

Chris McIntosh, M.D.

Women Members

Sara Noble, D.O.

Medical Students

Dennis Dacarett-Galeano

Psychiatric residents and
fellows

Laura Erickson-Schroth, M.D.

Early career psychiatrists

Dan Safin, M.D.

Ethnic minority members

Amir Ahuja, M.D.

Child and adolescent
psychiatrists

Jonathan Weiss, M.D.

Psychotherapy

Chip McDermott, M.D.

International Members

Gene Nakajima, M.D.

HIV

Paul Browde, M.D.

Education

Amir Ahuja, M.D.

Transgender

Laura Erickson-Schroth, M.D.

Spirituality and Religion

David, Scasta, M.D.

John Fryer Award

Eric Yarbrough, M.D.

APA LGBT MinorityUnder-Represented Assembly
Deputy Representative

Ubaldo Leli, M.D.

ACROSS (APA) Liaison

Margie Sved, M.D.

APA LGB CAUCUS

President

Mark Townsend, M.D.

Representative

Ubaldo Leli, M.D.

Deputy Representative

Andy Tompkins, M.D.
---
Top