Parenting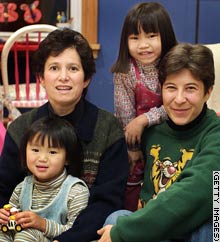 Lesbian, gay, bisexual and transgender people have always had children. In the past this almost always occurred in the context of a heterosexual marriage or relationship. More recently, same sex couples have been creating their own families through reproductive technologies and adoption. Some gay couples are creating new family constellations by co-parenting children with another person (perhaps the biological father or mother) or couple.
For example:
Edward had two children with Martha while he was married in the 1960's. After he came out as a gay man and divorced Martha, they continued as friends and shared custody and parenting responsibilities for their son and daughter. Today the son and daughter are grown and have children of their own. Edward and his partner Greg frequently have some or all of their five grandchildren stay over at their home during school vacations and holidays.

Janet and Lourdes have two school-aged sons. Each was conceived through insemination with an anonymous donor. Janet was the birth mother for the older son, and Lourdes gave birth to the second child.

Marvin, Carl, and Leah were college friends. Marvin and Carl eventually became a couple, and Leah came out as a lesbian. The couple asked their friend to co-parent a child with them, and they agreed. Using donor insemination with Carl as the donor, Leah got pregnant and gave birth to their daughter. The friends live near each other, and have written agreements about custody, school, holidays, and how to resolve any disagreements about parenting that might arise. Although it can sometimes get complicated, the three friends are finding raising their first child together to be rewarding and are finding that they value each other's help in caring for their daughter. They are in the process of planning to have another child with Marvin as the biological father.

Liz and Sharon are foster and adoptive parents through their local Social Services Department. Ten years ago when they started investigating this option, they were told they could not be a foster home as an openly gay couple. They decided that Liz would go through the training and certification as a "single" parent, and Sharon would be listed as a "roommate" living in the home. After the first two years and a couple of successes with children placed in their home, the Department asked Sharon to go through the certification process, and they are now registered as a couple. They have two children who they have adopted after the children were placed with them, and they currently have one foster child living with them who is in the process of going back to her birth mother.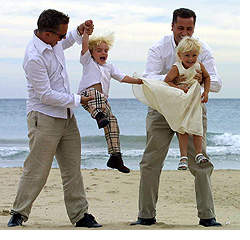 Despite the concerns of some, there is no evidence that children raised by two mothers or two fathers have more psychological problems than children raised in other types of households (Stacey & Biblarz 2001, Perrin et al 2002). Nor is there evidence that children with lesbian or gay parents are more likely to grow up to be gay themselves.
Same sex parents face many of the same challenges as straight parents, but there are some unique issues. Where one parent is the biological parent of the child or children, there can sometimes be tension if the bio parent uses her or his status to exert power in the relationship, or if the second parent feels lower in status. Same sex parents solve the issues of what the children will call them in different ways, with some using "mommy and mama" or "daddy and papa," others using names for mom or dad that reflect their heritage or ethnicity, and others having their children call them by their first names. The issues of coming out to one's kids is more pertinent for parents who first raised children in the context of a heterosexual relationship, since children raised by a same sex couple from the beginning are generally aware of their parents' relationship. Same sex couples may find that they have to come out to pediatricians, teachers, day care providers, and others who have contact with their children so that they can both share decision-making and childcare responsibilities.
Same sex parents have faced legal discrimination in trying to have and raise children. In some states, gay people are banned from adopting children, while in many other states, gay couples able to adopt as a couple, not being able to give their children some of the protections that being a married couple would afford. The spouse who leaves a marriage after acknowledging that he or she is gay can face similar discrimination in decisions about custody and visitation of children from that marriage. The Academy of Pediatrics and American Psychiatric Association have both issued position statements supporting adoption and co-parenting by same sex couples, recognizing that legal support for these families will lead to healthier families and children.
Having children can be fulfilling, exhausting, rewarding for same sex parents just as for heterosexual parents. It can also feel alienating to the couple, who may not have gay friends with children and who may not easily be able to participate in activities in the gay community once they have kids. They may similarly feel isolated at times in the typical parent circles as the only same-sex couple. Finding supports can be important both for the parents and kids.
For gay and lesbian couples who came of age at a time when gay parenting was unheard of, or gay and lesbian couples who choose not to have children, many have nonetheless taken on a parenting role in other ways. These include being involved "aunties" and "uncles" to children of their siblings or friends, and doting on pets as if they were children.
Resources
deHaan, Linda and Nijland, Stern. King and King and Family. Tricycle Press, 2004.
Parnell, Peter and Richardson, Justin. 2005. And Tango Makes Three. New York: Simon and Schuster.
Martin, April. 1993. The Lesbian and Gay Parenting Handbook: Creating and Raising our Families. New York: Perennial.
COLAGE - Children of lesbians and gays everywhere. Sponsors Family Week in Provincetown and other events.
---